City and Guilds Qualified Dog Grooming
'Dudley' courtesy
phodographics
For grooming please ring Linda on 01491
642903/07884 265562.
Client Feedback
"Thank you so much for the excellent trim you gave Barney yesterday - he came looking like a hearth rug and left looking like an Airedale! Several weeks later he still looks smart. I will definitely be back in the New Year." Mrs Masters, Wyfold.
"When we went on holiday we were always concerned as to where to leave our 3 little dogs until we found Wagtastic. Not only do the girls have a wonderful holiday, Linda treats them as her own and they always come home happy and beautifully groomed. We really don't know how we would manage without Wagtastic and thank you." Carole Langton, London.
"Thank you for the wonderful service that we always get from you – Merry our Border Terrier comes home from her handstrip looking really superb. We have no hesitation in recommending you" Jan and Paul Brealey, Reading
"I have been using Wagtastic for my two Westies since 2000. As I live in London part of the time I have tried many of the smart and expensive groomers there. None of them come near to the expertise of Linda at Wagtastic. She is half the price and takes twice as much trouble and is gentle so the dogs love her. I cannot recommend Wagtastic highly enough for both grooming and home boarding."
Ingrid Seward, Editor Majesty Magazine
"I have known Linda for many years, both in a professional and personal capacity, and have no hesitation in recommending her services. She has prepared my own dogs for championship shows (including Crufts) beautifully."
Erik D'Arcy-Donnelly (Bsc, BVSc, MRCVS)
"We tried several dog groomers in the area before we discovered Wagtastic. Linda is kind and professional and grooms our two Border Terriers perfectly."
Mr and Mrs Hallett – Herefordshire.
Useful Links
Wagtastic is proud to support this registered charity working to rescue and rehabilitate homeless and abandoned dogs, cats and equines on the beautiful island of Corfu.www.carecorfu.com
Heather Watson, Professional Dog Trainer and Behaviourist. Heather offers home consultations, as well as Training Classes for all standards.www.phodographics.com
Bromsden Border Terriers enjoy the rudest of health on Honeys Real Dog Food – a biologically and ethically appropriate raw feeding programme.www.honeysrealdogfood.com
UK's largest organisation dedicated to protecting and promoting the health and welfare of all dogs.www.thekennelclub.org.uk
Photos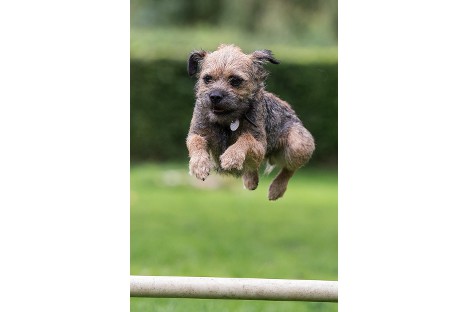 -
by Sean Cameron Photographic
About Wagtastic
Wagtastic has been supplying professional dog grooming services since 2000 when Proprietor Linda Vintcent gained the Ascot College of Animal Care Dog Grooming Diploma (See photos from our grooming room). She is also City and Guilds (Distinctions) and British Dog Groomers Association Qualified, and is a firm believer in Continued Professional Development and attends lectures, competions and seminars in order to keep up with all the modern trends within the industry.
She has worked for nearly forty years in the competition horse industry, breeding, breaking, showing and competing. She now has a small flock of Pedigree Wiltshire Horn Sheep and occasionally has quality shearling ewes by high index rams for sale.
Most breeds of dog are welcome in the grooming parlour, but there is a 25kg weight limit. Border Terrier handstripping is a speciality as she has owned this breed for over thirty years.
Client Feedback
Don't just take our word for it. Hear from other clients.
Contact Information
For grooming appointments please ring Linda on 01491 642903 or 07884 265562
Links to other related organisations.
See our helpful list of other related organisations that we like.
Grooming Room
Prices for grooms vary according to size, coat type, coat condition, and the amount of work and time involved. On average a small to medium dog will take 2 hours to do, at a current (2015) charge of approx £20 per hour.
Included in the fee is a bath in a 'Bio-groom' dog shampoo to suit the coat and skin of your dog, blow dry, ear clean, claw clip, basic health and teeth check. Hand strips take more time than clipping so tend to cost a little more.
Heavily knotted or matted coats are subject to a surcharge of £12.50 per half hour but you will be advised on check-in if this is likely to be necessary. We recommend regular professional grooming with coated breeds in order to avoid the skin problems that can follow a heavy build up of dirt and matts, at the time of grooming advice will be given on the best regime for ongoing good coat maintenance.
Please see our Terms and Conditions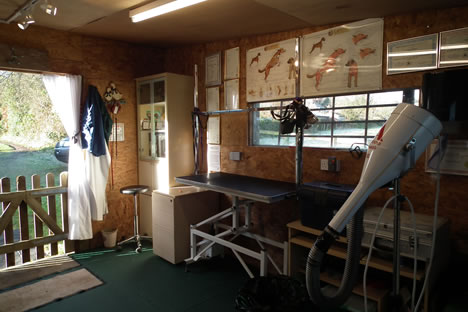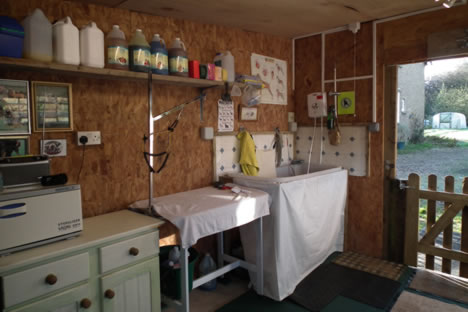 Terms and Conditions
Cancellation policy – If you are unable to attend your appointment, or need to rearrange, we respectfully request 24 hours notice, so that we may offer that appointment to another customer. Failed/no show appointments with less than this notice are costly to the business and must be charged for and payment for future bookings will be taken in advance. Repeat offenders may result in having to prepay future appointments or refusal of service.
Late for appointments – If you are more than 15 minutes late we may be unable to groom your dog. Failure to be on time creates delays and inconvenience for our other clients.
Pregnant bitches – we do not groom pregnant bitches. A thorough groom is advisable before the bitch is mated.
Anal Glands – the Royal College of Veterinary Surgeons has issued a declaration that anal glands may not be expressed by anyone other that RVC qualified staff. Therefore we no longer are able to offer this service.
Ear cleaning – if your dog has infected or inflamed ears we will be unable to clean them, the groom will be completed as well as we are able without causing further discomfort to the dog. Ear hair can only be plucked from the outer ear. Any hair that exists further down the ear canal must be removed by a vet.
Dematting (IMPORTANT) – Any procedure that exposes a dog to pain or discomfort is against the law under the 2006 Animal Welfare Act. Asking your groomer to brush out a heavily matted coat can be extremely stressful to a dog, and can result in the groomer and the owner being investigated and even prosecuted by the RSPCA. Often the kindest thing for your dog in this condition is to have the coat clipped off short in order for the skin to recover and healthy coat to regrow. Your groomer will advise the most humane solution. Please talk to your groomer about a regime of coat care if you have a breed (especially a non shedding breed such as Bichon, Tibetan, Poodle, Portugese Water Dog, Lagotto, 'Designer Doodle' etc) that requires regular professional attention, you will be advised as to the correct and humane maintenance (clipping the whole coat off once or twice a year as the only grooming attention is NOT good practice as a filthy matted coat can hide underlying skin conditions that can fester, and consequently infections can be be exposed which have not been caused by the actual clipping process.)
Satisfaction - After your groom please feel free to post a review on the Wagtastic Google Business page. In the unlikely event that you are not pleased with your groom then please let us know as soon as you are able so that we can do our best to put it right. Your satisfaction and your dog's comfort are very important to us, as is your continued patronage

Commercial
Watch our
Wagtasticly good
Commercial.

Photos
If you like dogs as much as we do, you'll love these photos.

About
Services offered by Wagtastic and contact information.